Haircuts $19 
*Due to Covid-19 we are not doing beard trims or face shaves at this time.
Joe Hausch 262-549-0927
• Appointments highly recommended.
• Handicap accessible (no steps).
• Easy and safe parking directly front of building.
~~~~~~~~~~~~~~~~~~~~~~~~
100% Safety record
During the past eight years , we have enjoyed 100% problem-free work environment at Arcadian Avenue Authentic Barbershop. To help promote this successful record we are making a few changes for the safety of all.
• We are working by appointment only evening hours after dark.
• Doors are kept locked evening hours after dark.
• New motion detector lights are being installed to better light up our surrounding area.
• Other safety measures are being implemented promote our success.
Thank you for your patronage.
~~~~~~~~~~~~~~~~~~~~~~~~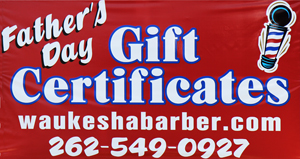 ~~~~~~~~~~~~~~~~~~~~~~~~
Physical disabilities, ailments or restrictions? Onsite barbering is available! Perfect for elderly or shut-ins.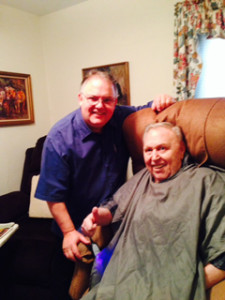 ~~~~~~~~~~~~~~~~~~~~~~~~
"Meet Derrick"
For 20 years barbering has been an art to Derrick. It is a creative process which has led him to make a career out of being a barber. It is his passion.
"Meet Joe the Barber"
Find out how the barbershop came into being, the history, the art of barbering, and what makes an authentic barbershop so unique.

"Customer Appreciation"
Hear Joe talk about his passion for his barbershop, his care for his customers, and the joy he gets from seeing young kids get their very first haircut.